Super Alkaline Water Ionizer; Super Alkaline Water Generator; Functional Water Generator; Super Alkaline Electrolyzed Water Ionizer; Alkaline Water Ionizer; Alkaline Water Generator

pH: 12.0~14.0
(Customized)
Outflow: 60L/H~100T/H (Customized)
*The equipment can be customized according to the specifications and parameters required by cusomers.

● The equipment can change pure water into super alkaline electrolytic water with pH=12.0~14.0, also known as electrified water, micro-electrolytic water, functional water, etc.
● Super alkaline electrolytic water has high cleaning and disinfection effect.
● Carbon-free and chlorine-free, can be used in military industry, nuclear industry, optical lenses, glass and liquid crystal panels and other precision cleaning.
● Non-irritating, can be used in laundry, printing and dyeing industries.
● Colorless, odorless, non-toxic, can be used for lathe cutting, metal stamping and metal surface grinding.
● Natural anti-rust, can be used for oil cleaning of iron parts.
● Not containing heavy metals, can be used for cleaning tableware, lampblack machine, carpet, elevator room, etc.
● Not containing any surfactant, can be used for cleaning fruits and vegetables, sterilizing and keeping fresh, and removing agricultural residues.
● Being directly discharged, used for pipeline cleaning in beverage, food, distillery and other enterprises.
● Capable of replacing pesticide and chemical fertilizer, promote plant growth and increase crop yield.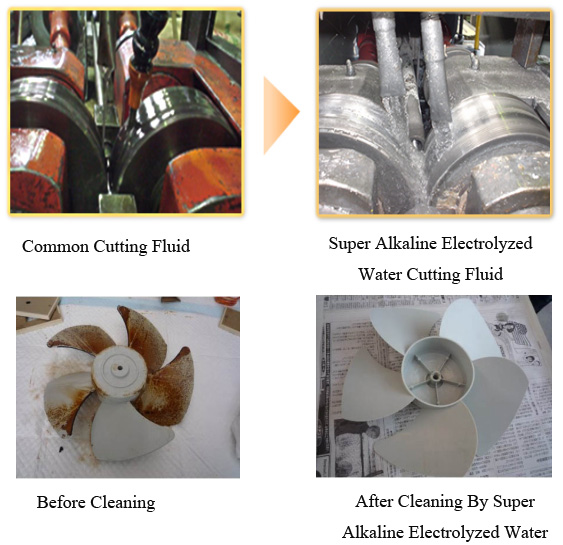 Respectively, the SUS304 stainless steel plate with silicone lubricant was degreased for 5 minutes by Fangxin Strong Alkali vs. other 4 ways, with ECG super alkaline water, with trichloroethylene cleaning solution, with 5% NaOH solution plus surfactant from different companies, and pure water. Then compare the cleaning effect, shown in the table below:


● Instantaneous electrolysis produces only alkaline water and no acid water. The effluent indicators are tested by users and authoritative organizations, which are far superior to similar products.

● Perfect operation control system, from water intake to water outlet automatic control, one key start-stop.

● The operation indicators and effluent quality are monitored and displayed by the third party online instrument, which is true and effective.

● At present, super-alkaline electrolytic water equipment with pH (> 13) and effluent (> 100L/H) running in enterprises all over the world are manufactured by Fangxin.

| | | | |
| --- | --- | --- | --- |
| No. | Item | Value | Test Party |
| 1 | pH | 13.3 | SGS |
| 2 | Anionic surfactant (mg/L) | <0.05 | SGS |
| 3 | Hg (μg/L) | <0.1 | SGS |
| 4 | Bactericidal rate of Klebsiella pneumoniae(%) | >99.98 | Guangdong Institute of Microbiology |
| 5 | Removal rate of propoxur (%) | >97.8 | Guangdong Institute of Microbiology |
| 6 | Removal rate of DDVP(%) | >95.0 | Guangdong Institute of Microbiology |
参考文献
日本太田雄一·强碱性电解水在工業洗浄上的研究
日本太田雄一机能水在农业的发展
平成25年9月25日 中央環境審議会土壌農薬部会農薬小委員会(第36回) 資料
日本歯科大学粛学部歯惆病学教室---強アルカ リ電解水の殺菌効果につ いて